Remodeling Beverly Hills, CA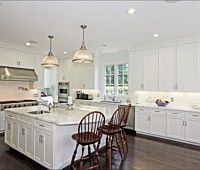 RLD Homes, Inc. is one of California's top home remodeling companies. For decades, we have been beautifying homes in Beverly Hills, Los Angeles, Santa Monica, and nearby cities. Our previous clients from these areas can attest to the professionalism of our people and the quality of work that we can provide. The numerous testimonials that we get from our satisfied clients are also proofs of our expertise in this field.
If you're from Beverly Hills or residing within our service area, please contact us today. We will show you how we can make your home more attractive and a better place to live in. Call us at (310) 560-0693.
Home Remodeling Experts in California
RLD Homes, Inc. has over two decades of experience in building custom homes, property improvements, and home remodeling. Our lengthy experience helped us hone our skills in handling property improvement projects, as well as in designing and building new homes for California clients. In fact, we have handled almost all types of new home construction and have remodeled countless homes in Beverly Hills, CA and nearby cities.
Our expert remodeling crews are another reason why most California homeowners trust us when it comes to improving the looks and functionality of their homes. We employ some of the best home designers and builders in the state so clients can get their desired results.
We make sure that our crews and other hired sub-contractors share the same vision as ours. They must adhere to our high quality standards and work in a professional and courteous manner. We also monitor their output to ensure that the project runs smoothly and according to the project's timetable.
The Best Spots to Remodel
There are many areas that we can remodel to satisfy your need for a more comfortable home. We can add livable spaces such as a new bedroom, sunroom, study room, or even an entertainment room. If you don't need a major improvement, we can just focus on improving the aesthetics of your interiors. We can repaint your walls and ceilings to give a new life to your home's interior. Our home remodeling team can also install new floor tiles on your living room, kitchen, or bathroom.  
When you hire RLD Homes, Inc., rest assured that we will only recommend features and amenities that will help improve your home's functionality and aesthetics. We will also identify other issues and problems so we can provide immediate solutions and include them in our remodeling plan.
Here are some of the areas in your home that we can remodel:
Kitchen
Bathroom
Bedroom
Attic
Basement
Garage
Living room
Home office
Entertainment room
We can also add new amenities to make your home more comfy or build new living spaces such as patios, decks, guest rooms, and a mini-library. Just tell our home remodeling team about your plans and requirements and we will work on them outright.
Hire an Experienced Remodeling Contractor
Hiring inexperienced contractors can result in poor workmanship or lead to a more expensive home improvement project. Trust only in an experienced home remodeling contractor like us at RLD Homes, Inc. We will work within your budget, complete the project according to plan, and provide you with excellent results.
Call us now at (310) 560-0693.