General Contractor Los Angeles, CA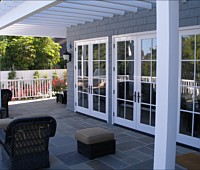 RLD Homes, Inc. is a licensed general contractor capable of building new homes or performing major home remodeling jobs. We offer cost-effective solutions to home construction and remodeling concerns and we have completed countless projects in Los Angeles, Beverly Hills, and Santa Monica. We work smart so we finish projects without costly delays and with the results expected by clients.
Call us now and we'll tell you how we can solve your specific home construction or property improvement needs.
We are a Full-Service General Contractor
RLD Homes, Inc. is one of California's most esteemed companies. We are a full-service general contractor that can work on all phases of new home construction including home design, assistance in permit acquisition, construction management, site preparation, planning and scheduling, budgeting, site safety and security, and many others.
With us, clients from Los Angeles and other areas we serve can enjoy the convenience of working with just one general contractor for all their home remodeling or new construction requirements. And judging from the overwhelming feedbacks we've been receiving from past and recent clients, we're confident that we're doing our jobs right.
Complete Resources
It's important to have all the needed resources to complete any home construction or remodeling project. Having these resources will allow a general contractor to perform its job efficiently and with positive results that clients need. And at RLD Homes, Inc., we have all the needed resources to complete any type of construction project.
Our company has everything from tools and equipment to skilled personnel and construction materials. We employ professional and licensed home designer and engineers, as well as certified masons, expert builders, and project managers. All these resources make us one of the most reliable contractors in the state. You, too, can reap the benefits of hiring professionals like us so we urge you to connect with us soon.
We Work Smart, Not Hard
Our company has maintained that to be truly effective, we should try to always work the smart way and not the hard way. This doesn't mean that we're taking our jobs lightly; this only means that we're constantly finding ways to simplify complex problems and find shortcuts that will make our tasks easier to handle. We also follow systematic processes, perform quality audit, and follow project requirements down to the smallest specifications. All these ensure excellent results that clients are truly happy about.
Licensed General Contractor in Los Angeles, CA
We are among the most sought-after general contractor firms in Los Angeles, CA offering various home remodeling and construction services. We are fully licensed and we only hire professionals with relevant and lengthy experience in their respective fields. Additionally, we guarantee hassle-free construction or remodeling experience with our unique approach and streamlined processes. And the best thing about our offered services is that we provide them at very affordable rates, so even with limited budget, clients can still enjoy professional-quality work.
Please call us at (310) 560-0693 and tell us about your planned home remodeling or new home construction project. We'll be happy to schedule a meeting with you, so we can fully understand your needs and offer you the right solution.